Sole Trader Vs Partnership Vs Limited Company
Which business structure is right for you?
Either you're about to set up a business, or you may already be running a successful trade, when your helpful neighbour has commented that it's better to be a limited company ...
photo by 'rawpixel.com' on unsplash
So now you are questioning whether you are doing the right thing being a sole trader. What is the right thing to do? When is the right time to incorporate ... if ever?
"Well, the simple answer is that there is no simple answer, or right one!"
Here at Essendon we look at your specific circumstances and work with you to decide what is best for you, your business and your future aspirations when it comes to what route your business should take. And don't forget there is the partnership option too.
But how will the different routes affect you? It is entirely dependent on your individual circumstances, however, there are a few main differences between a company run by a sole trader (or as a partnership), and a company managed by its director/shareholder.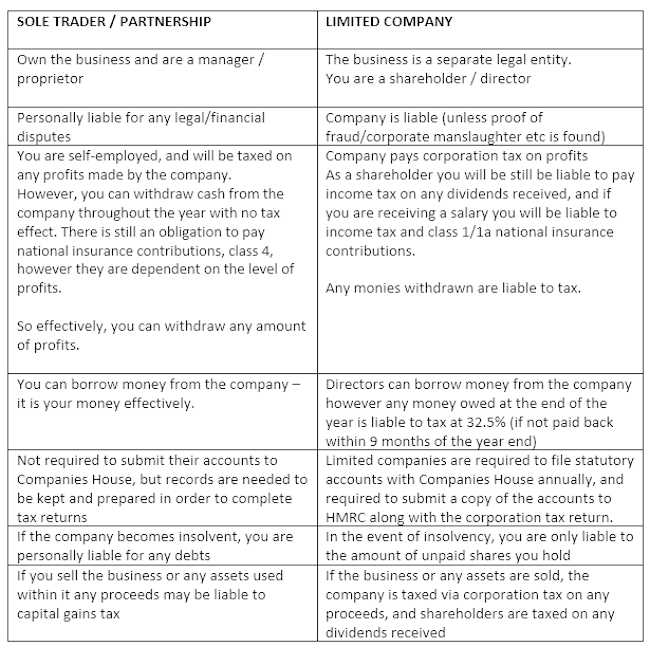 The decision of how your company should trade is dependent on several factors, which are a mixture of where you see the company progressing.
Do you want to sell shares in it?

Do you want to share the responsibility?

Is the company risky and therefore restricting the personal liability is preferable?
It might be that you simply prefer the comfort of the company being a separate entity, and feel that the title 'limited' might give the appearance of being bigger to help with promotional aspects.
Equally, you might enjoy not having the extra administrative responsibilities that come with being limited and feel the freedom of the smaller company structure feels right for your chosen trade.
That is why at Essendon we cannot give any definitive answer as to what the best route to take is. It is a decision that we would encourage you to make after careful consideration of the situation your business is in and where you envisage it going.
"Would you like to know more?"
If you'd like some advice from us before you make your decision, do give us a call on 01908 774320 or click here to send an email enquiry and let's see how we can help you.
Until next time ...
VICTORIA MOLNÁR-BROWN
More about Victoria Molnár-Brown ...
After seven years working in communication and marketing Victoria made the decision recently to change careers and enter into the world of accountancy, and is currently studying towards becoming an ACCA-qualified accountant.

Victoria is part of the accounts team, assisting with accounts preparation, CIS returns, VAT returns, personal tax returns and anything else that she can help with!



When Victoria isn't studying or working she has a young son that keeps her occupied, and also enjoys playing netball, running and socialising with friends and family.



Victoria also plays the accordion, having been UK Solo Accordion Champion for her age group on three separate occasions, and enjoys playing in a barn dance band and giving talks about the instrument to local groups.