Is Copywriting The Cinderella Of Marketing?
A guest post by Stephen Church ...
One of the joys of working with clients is that, once they get to know me, they start to think of me as their Business Godparent. In other words, much more than a numbers man; more like mentor ...
copyright: nexusplexus / 123rf stock photo
I'm a keen networker and am lucky enough to meet dozens of professionals from every sector imaginable. This means that, when a client is confronted by a new challenge, I'm often able to find just the right expert to ease their pain.
Stephen Church is just such a case. Stephen is from Copywriter Pro and is based in Northampton. He's a marketing wordsmith. He uses his love for, and knowledge of, language, to help businesses get more clients by writing words for their websites which are clear, concise and compelling.
In today's blog post, Stephen describes the importance of words to business success and how their value is so often overlooked. Take it away Stephen ...
Words. Do you remember them? Those squiggly things, line after line, neatly laid out across the page. I tell you what. They matter. They really do.
And yet - it's weird (and deeply, desperately disappointing to professional copywriters) how the value of words, and the skill required to craft them effectively, frequently goes unappreciated. Yes - we copywriters do feel unloved.
For too many business owners, good copy is just an afterthought, not to be taken seriously.
So often, my heart cracks as I hear, "I've never needed a copywriter. I wrote the copy for my website. My husband looked it over. He's always been a great speller." or, "Oh, I do all the copy myself. I'm good at English. I got A* at A Level."
You have to travel a fair way back in time to find the year that I studied English A Level. OK, I admit it, and keep it to yourself - it was 45 years ago. But, if I recall correctly, writing commercially effective web copy didn't take up a significant block of the syllabus. Neither did headline writing, calls to action, correct use of anchor text, keyword research or Search Engine Optimisation.
I'd love to know - do these self-made copywriters bask in the same confidence about other life skills? Would they carry out their own domestic re-wiring? Do they do their own plumbing and boiler servicing? Would they happily write the code for their own website? Possibly ... but, more likely, they call in the experts. That's what most of us do.
"Why should copywriting be any different?"
We all recognise the need for good web design. A visually engaging website is critical for both grabbing and keeping the attention of the visitor. But, and it's huge, whopping 'but', however attractive the graphics and layout might be, they are merely the canvas for the copy.
Finding the right words, written in the right 'voice', isn't only vital for effective web copy. It's just as important for:
Catalogues

Newsletters

Emails

Sales Letters

Letters of introduction

Press releases

Case studies

Whitepapers
It's words that do the heavy lifting
So, what makes good copy? Is good copy lovingly-constructed long sentences worthy of Jane Austen or Charles Dickens? Is good copy long, 'professional-sounding' words? Does good copy slavishly follow the rules of grammar? You'll be unsurprised to learn that the answer is 'no'. So what is good copy?
"Good copy is ... copy that does the job!"
This leads us neatly to the first and most important question we need to ask about our words before we embark on a copywriting project. What are our words for? What do we want them to achieve? Do we want them to inspire potential clients to get in touch? Do we want them to inform clients about the latest developments in our sector? Do we want them to prompt the reader to sign up for a newsletter?
Our next question is this: Who are our words for? Can you paint a picture of your target reader? Are you writing an email to a prospective client, a final demand to a late-paying customer, a valentine card to a loved-one, a note to the milkman (or, I suppose, a valentine card to the milkman, although these are somewhat less frequent).
No matter who your reader is, you need to picture them in your mind's eye. You need to consider their character, their behaviour patterns. The more you can get into their shoes, the more effective your words will be at pushing the right buttons.
"Clarity is all!"
Good copy needs to be clear, concise and compelling. Clear words avoid confusion. Concise words convey the message. Compelling words promote action. The greatest of these is clarity.
Roger Eddowes' clients (and indeed HMRC) will demand that he prepares and presents accounts clearly. Similarly, the new GDPR requirements insist that all businesses communicate their data policies with clarity.
So let's elevate the status of copywriting in business. Let's lift it from the gutter of irrelevance to its rightful position at the pinnacle of marketing communication. After all, words make the offer, words seal the deal, words - make - stuff - happen.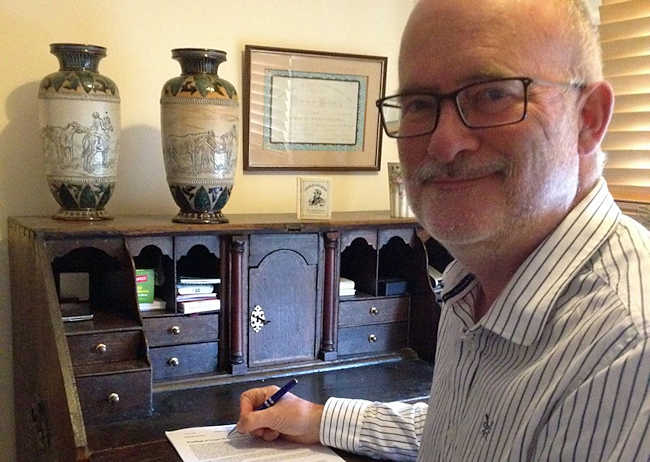 Thank you Stephen. And if you'd like to learn more about him and his copywriting services, you can visit his website, connect with him on Facebook, Twitter and LinkedIn or even call him on 01604 378495 to discuss your copywriting needs.
Until next time ...

ROGER EDDOWES
Business Godparent



More about Roger Eddowes ...
Roger trained at Edward Thomas Peirson & Sons in Market Harborough before working at Hartwell & Co, followed by Chancery, as a partner. He started Essendon Accounts and Tax with Helen Beaumont in 2014 as a general practitioner with a hands-on approach.

Roger loves getting his hands dirty, working with emerging, small-to-medium and family businesses to ensure they receive the best possible accountancy advice. Roger utilises an extensive network of business contacts to leverage the best guidance and practical solutions.